Join the journey
Do you hunger to recognize God's grace in your life and yearn for a richer faith?
Would you like to better understand what embracing Christianity means?
Do you want your spiritual life to thrive?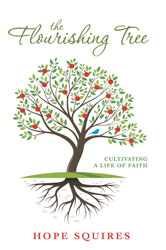 The Flourishing Tree invites you to journey through the trees of the Bible and see the tender ways they can teach us—from their roots to their fruit—all about flourishing in today's world and cultivating a life of faith. Along the way, we'll meet the cast of characters who climb trees, carve them, shelter under them, or even talk to them. And we'll learn from the One who was nailed to a tree to save our lives.
The shameless pitch—and a gift
Whether just reading it by yourself or discussing it with a small group, The Flourishing Tree is a wonderful way to grow in your faith.
It's available in print and ebook anywhere books are sold.
Those who know me best know I love supporting independent bookstores. So if you buy a copy of The Flourishing Tree from indiebound.org or an independent bookstore, send me a picture of the receipt and your mailing address, and I'll mail you a Flourishing Tree bookmark as my way of saying thanks!
While you wait for your copy to arrive, here's what author Allison Cain has to say:
Like the rain after a long hot day, The Flourishing Tree revived me. Hope takes classic Bible stories and illustrates how God's word is still active and relevant in our chaotic and challenging daily lives. God's presence, grace and mercy shine through each chapter of this book as she offers purposeful reflections and prayers to challenge and encourage our growth as Christians. The Flourishing Tree not only feeds your soul and rekindles your love for the Maker, it reminds us of just how attainable it all is when we are leaning on the Master gardener.
If you have read the book, please review it at the site where you bought it, or on Twitter, Facebook, or Goodreads. Authors live and die by reviews. … Well, we don't, but our books do.
Thanks for dropping by, and happy reading.