Now that I've published a book, a common question I get is, "When will the next one be ready?"
I take the question as a compliment, but it's also difficult to answer. The first book took me eight years to write. I hope the next one will go considerably faster, but I know better than to make promises.
I can give you a sneak peek at progress though: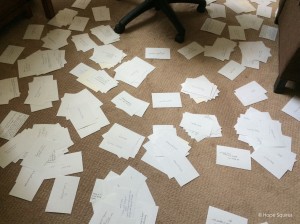 These are my notes, categorized in untidy little piles. It's slowly morphing into an organized outline, and I'll update you when I can.
In the meantime, I'd love for you to drop by my guestbook. It's a perfect place to ask about The Flourishing Tree, drop me a friendly note to say hello, or even to ask, "When will the next one be ready?"